David Fincher's new movie is about the founder of Facebook, Mark Zuckerberg. After aliens, serial killers, reverse-aging people, fighting smart guerilla-terrorists – The Social Network is going to be the next dramatic theatrical impact for David Fincher: The (young) life of a man who pushed interactive communication to the next level.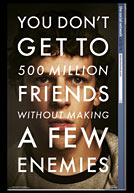 The cast will be Jesse Eisenberg (Zombieland) as Mark Zuckerberg, Justin Timberlake (himself) as Sean Parker, and Andrew Garfield (The Imaginarium of Doctor Parnassus) as Eduardo Saverin.
Watch the teaser trailer on the Apple Quicktime trailer site.
Also in David Fincher's pipeline: A thriller based on the "Millenium" novel by Stieg Larsson, with Daniel Craig as Mikael Blomquist and Carey Mulligan (rumoured) as Lisbeth Salander. Who needs a Hollywood remake of this, even if Fincher will be in charge for the movie?